If you are a beginner artist, I'm sure you have probably said to yourself, "oh, I can never draw, art is for talented people". I did too.
I want to share with you five common blocks for the beginner artist. We will go deeper and peel away the excuses that often block us from expressing ourselves through our art. My goal is to help you remove all the judgment that comes with making art and, as a result, embrace your beautiful crooked lines.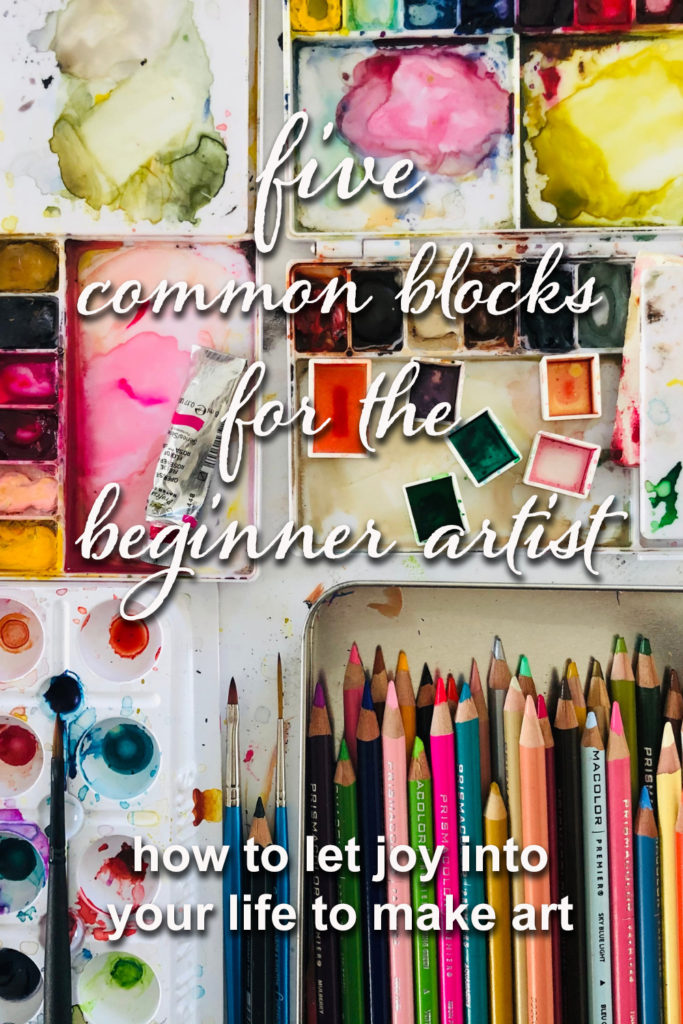 Once your fear is removed, and you step out of your own way, that's when creative magic happens!
Below are my five most common blocks that I see preventing beginner artists from accessing their unique voice and feeling the joy that comes with honoring a creative life.
5 common blocks for the beginner artist
"I'm not good enough." Not true. Beginner artists need to work hard at getting over this negative self-talk. We are all uniquely talented with an abundance of untapped potential for art exploration and creation. I encourage you to sign up for my email newsletter to receive my FREE Art Planner download.
Saying, "I need to be the best" is about you wanting to impress. Let it go. It's time to make ART, be brave!

Excuses like, "I don't have the proper training, money, paints, or the time" are excuses that are keeping you from developing your abilities. Life is challenging and difficult, and that's what makes it exciting. If you truly are just beginning your journey as an artist and are looking for suggestions on what tools you may need, I think you'll find my post Sketching 101: 15 Creative Tools for the Beginner Artist helpful.
Have you ever said "I told you I couldn't draw" when sharing an artwork? Learn to quiet your inner voice and negative comments now. As a beginner artist, self-acceptance is one of the keys to finding joy in life and in your art.
Do you have Imposter Syndrome? I encourage you to own your hard work and perseverance; you've earned your successes.
Daily art lifts the spirit!