Each Hudson Valley wedding venue is unique. The five that I share with you today, I feel, are special in their own way and offer couples a beautiful romantic setting that captures their individuality.
As a wedding florist, I've had the pleasure of meeting a diverse number of couples eager to imprint their special day with their own sense of style. Here in the Hudson Valley, there are no shortages of romantic wedding venues to suit and accommodate even eclectic style preferences. If you are planning your wedding, these romantic venues should be on your list!
Blooming Hill Farm
Blooming Hill Farm, located in the Hudson Valley region of New York, is a working farm perfect for those looking to have a relaxed rustic wedding. This unique venue is the perfect location to entertain guests away from the hustle and bustle of urban life while still creating a sophisticated rural setting under the canopy of a tent. If you are a foodie, then this is the place for you, all produce is handpicked for each of their gourmet dishes and served family style. The atmosphere here is the perfect location for couples to openly express their individual flair.
Blue Hill at Stone Barns
Then you have the other extreme of a working farm. The historic Blue Hill at Stone Barns Center is a center for food and agriculture studies and a working four-season farm. Located just 30 miles north of New York City, it highlights the abundance of the Hudson Valley. Every detail of this venue is high-end perfection.
The garden and vistas are highly impressive. A true sense of hospitality is the feeling you get from the meticulously trained staff to make any guest feel more than welcome. This beautiful rustic stone walled barn is the perfect location for couples planning an atmospheric elegant and glamorous wedding. The stone barn itself is spacious and rustic with high recessed beams which delights the moment you enter.
Wainwright House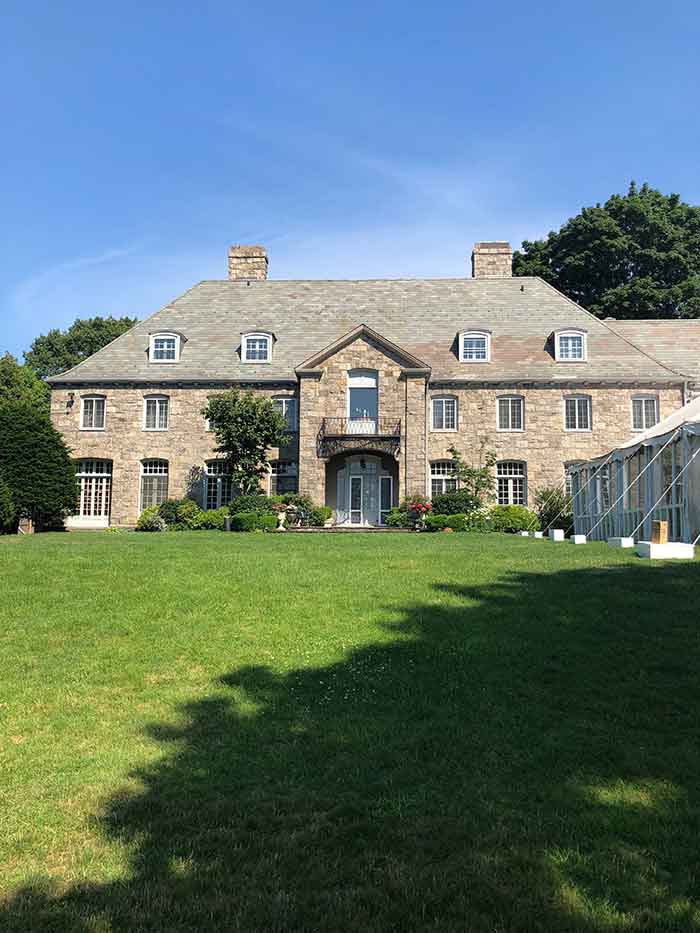 Wainwright House provides the perfect refined setting for a lavish wedding celebration. Located in Rye NY just 40 minutes north of New York City. This magnificent old estate is set on five breathtaking acres overlooking Milton Harbor in Westchester County. This replica of a French Chateau, features a formal large center hall entryway, a dining room with large floor to ceiling windows, a beautiful old world library, and a romantic solarium with panoramic views of Long Island Sound.
Audrey's Farmhouse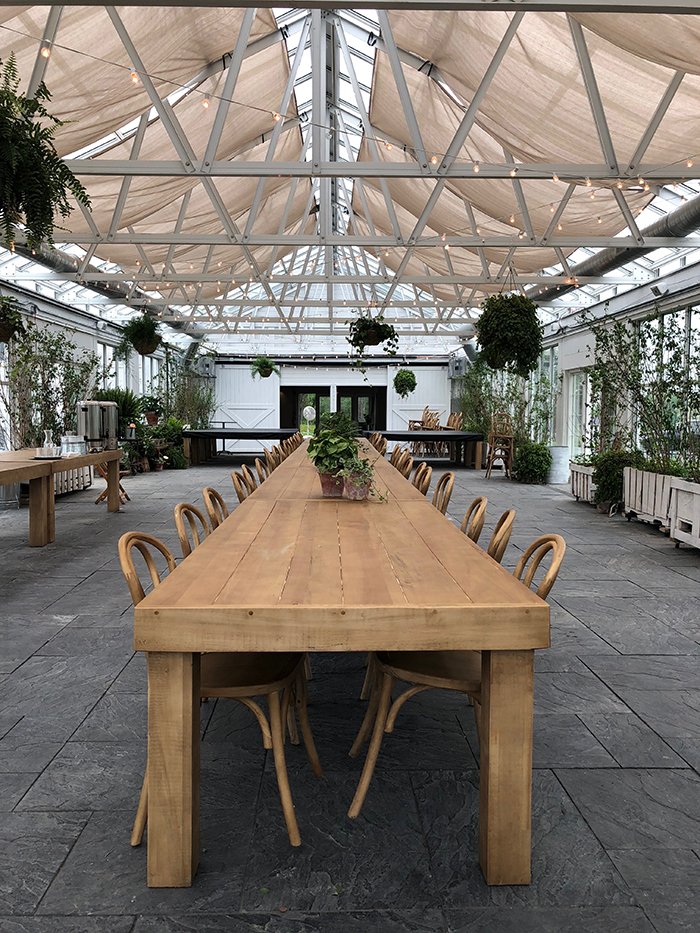 Audrey's Farmhouse is a 1740 Dutch farmhouse located in the central Hudson Valley, Wallkill, NY about two and a half hours from NYC. With modern available rooms on site for your guests, this location may fall short of being a picture-perfect wedding venue for some. Typical to an old-world working farm, Audrey's offers a 3000sq. ft greenhouse for weddings. The greenhouse is ideal for those looking for an earthy botanical atmosphere with a modern ambiance and an edgy vibe.
Brotherhood Winery
Couples are often looking for venues that offer a wow factor for their guests, and Brotherhood Winery doesn't disappoint. Established in 1839 and known as America's oldest winery, this charming destination is located in Washingtonville, NY in the heart of the Hudson Valley. The stunning old stone structure, with its towering ceiling, massive beams, and hand-crafted floors, is spacious enough to hold large gatherings. If you're looking for the perfect place to say 'I do' in the Hudson Valley region, be sure to stop by this historic winery for a tour or wine tasting. This charming location is ideal for brides planning a romantic garden wedding.
—
If you haven't already, please sign up for my monthly email newsletter where I share a behind the scenes look at how I'm working things out in life and in my garden. You can also follow me on Instagram, Pinterest, and Twitter.