As a wedding florist, located in the beautiful Hudson Valley region of New York, I often seek out local lower farmers to help supplement the seasonal flowers grown in my own cottage style garden for my floral arrangements.
"Hi, my name is Gloria. I am a florist and I am committed to creating flower designs that use only 100% local flowers in all of my arrangements," I said gasping for air. My pitch was directed to a very charismatic, tall, portly, and very noticeable farmer named Guy Jones of Blooming Hill Farm. His signature style was his full-pigmented beard which covered his tanned face. His rough voice made it clear he was the man in charge.
Blooming Hill Farm is a regular vendor at the Ramsey Farmers Market. On that cold day we met, the farmers market was being held in the gymnasium of a school and the institutional energy in the space could have set off the fire alarm. My husband and I, true foodies, always walk the stalls with a keen eye scoping out the uncommon for the week. We both delight in the whole process of shopping at these markets.
My pledge of using only 100% local flowers for all of my arrangements forced me to seek out local farmers willing to grow specific flowers for the budding Hudson Valley florist industry.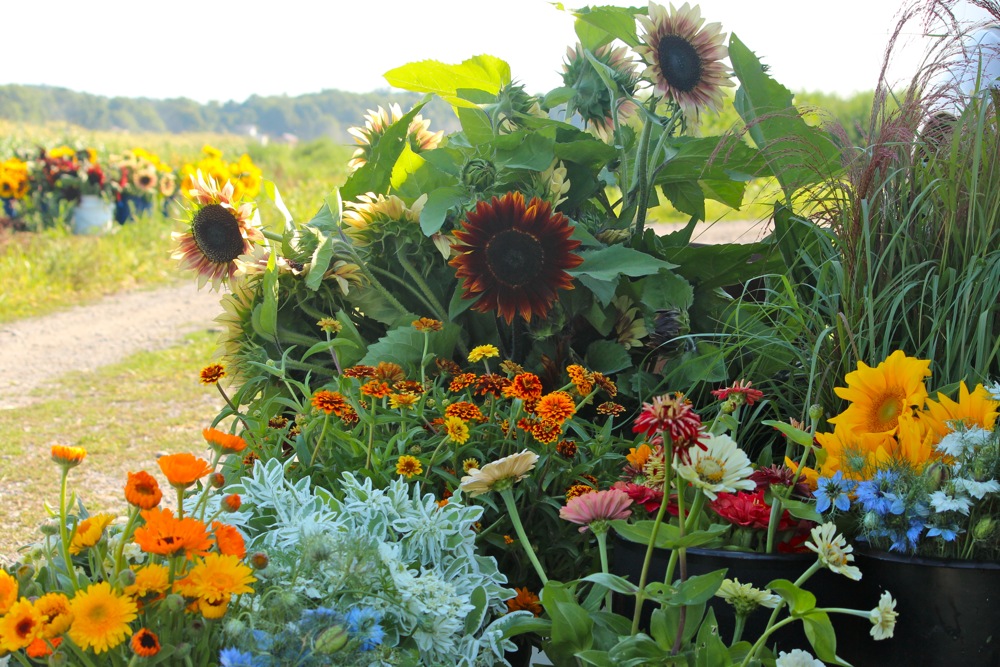 I was thrilled that Guy genuinely seemed interested in my proposal. We kept in touch and as the days began to warm up in early spring. I drove up to his Blooming Hill Farm in Blooming Grove, NY (not far from my home) and began talking about how a select group of florists were looking for a fresher product – flowers that are grown locally with fewer preservatives, less of a carbon footprint, and with a more seasonally natural appeal.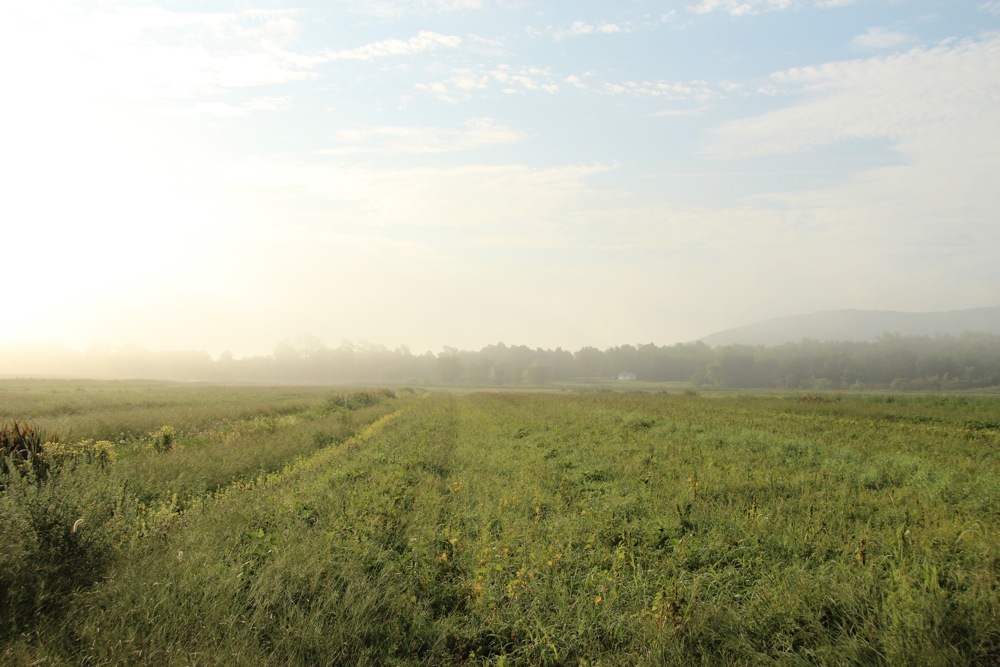 Once I reached the growing fields of Blooming Hill Farm, I was instantly at peace. The earth 's natural beauty and rich distinct smell, the tranquility of the perfectly straight vegetation reaching far into the horizon, the field pickers each with their own stories to tell, and the dirt of it all made me jump for joy. The passion I have for my work is found in these fields and in their cycles – These fields quietly tell the story that we must all slow down and listen. This is so we may pass along its rich beauty in everything we do.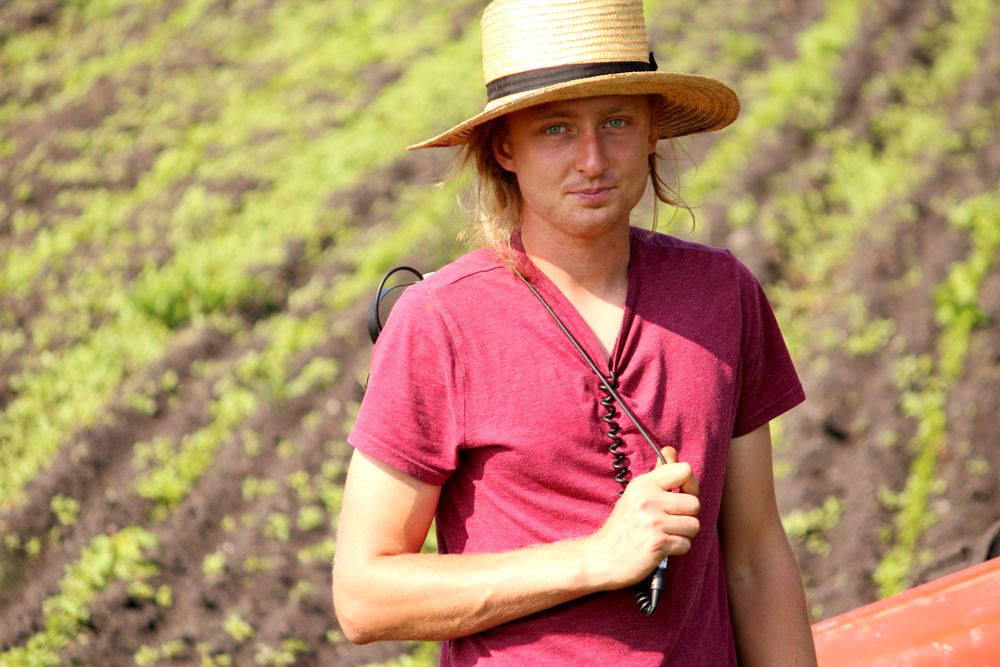 "This land was once a glacier," Guy's son Travis explained as we met one midsummer morning to cut my first batch of flowers. "It's very fertile no need for any chemicals here, it's just good black dirt." I truly enjoyed my time at Blooming Hill Farm that day and I do hope you'll take a minute to get to know more about them. It's because of farmer's like Guy that our regional agricultural economy is so rich and even though the Hudson Valley region's farming industry slows down when the weather gets cooler, it does not stop altogether. Blooming Hill Farm is also the location to many stunning weddings. If you are planning the perfect Hudson Valley wedding, be sure to contact my friends there and let him know Gloria sent you.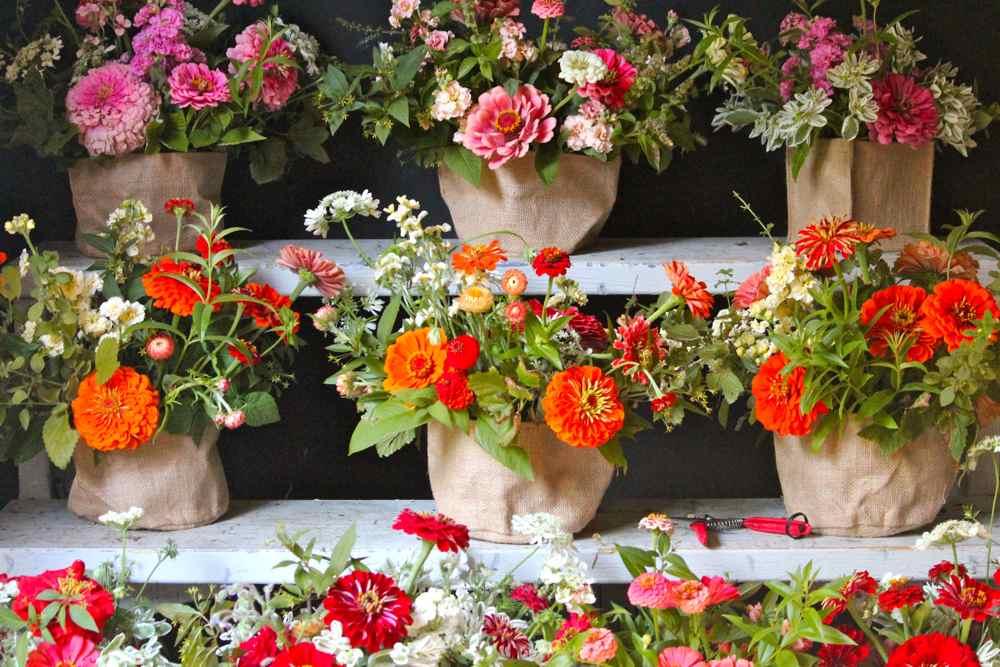 I feel so very fortunate to work with couples who appreciate and plan their weddings with the tides of the season while supporting local farmers. If you are planning your wedding, please reach out to me today. I'd love to schedule a time to chat.
If you haven't already, please sign up for my monthly email newsletter where I share a behind the scenes look at how I'm working things out in life and in my garden. You can also follow me on Instagram, Pinterest, and Twitter.