If you are curious about how to grow a climbing rose bush, then welcome!
In this journal entry, I want to share some insight and tips on what works for me in my cottage-style seasonal garden. Whether you are just getting started or a bit rusty in the garden, you may already know that we year-round gardeners LOVE our gardens! We are especially joyful when quietly puttering through our endless seasonal chores.
Tending to your garden will make you feel hopeful for the limitless possibilities of growth and every year you'll learn from your mistakes. As you continue to cultivate a garden you'll be eager to perfect your methods, grow new plants, and work through ideas to make your garden come alive each season with joy in your heart; a unique opportunity.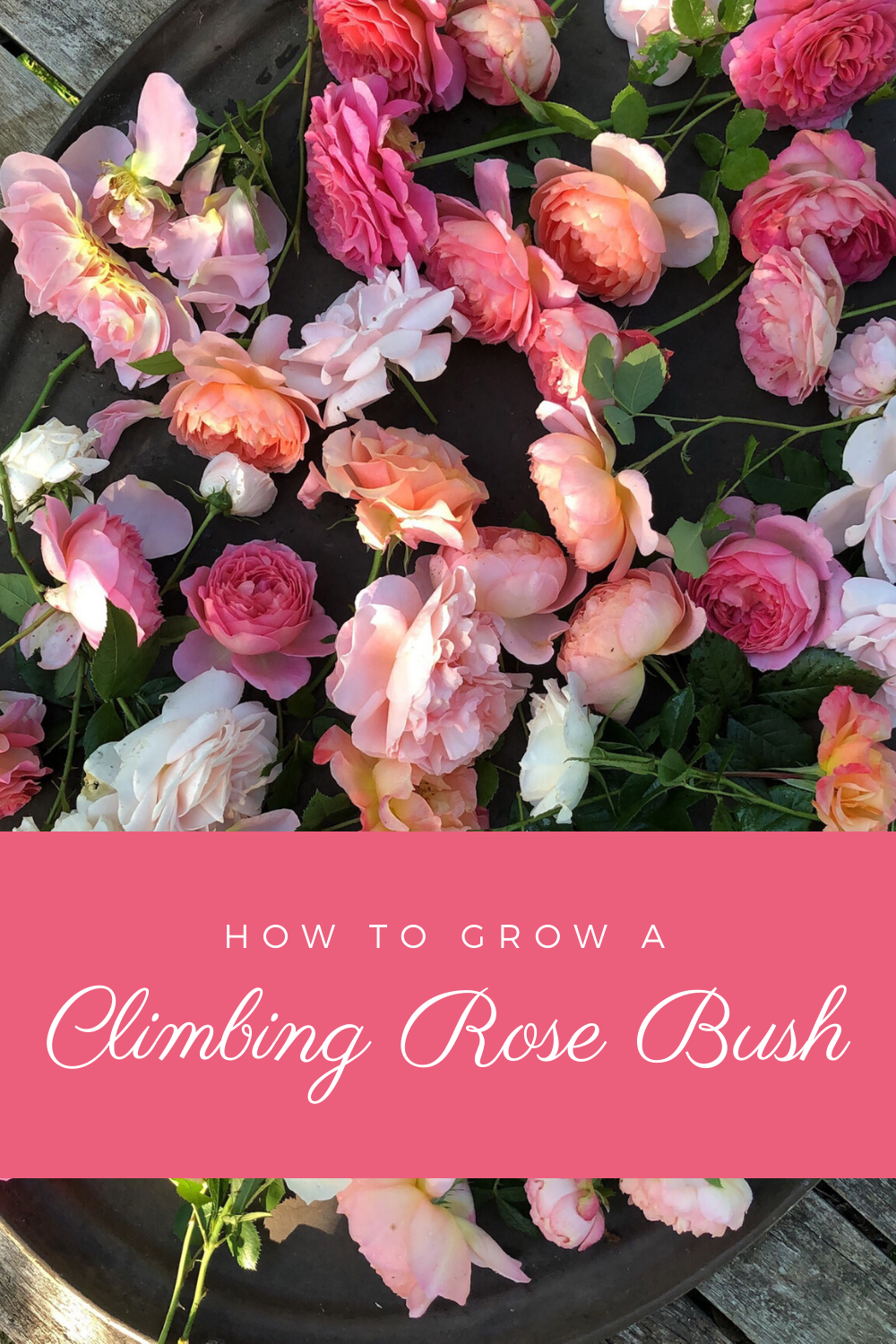 Me? I consider myself a realist Rose grower. What does that mean? Well, hard work pays off when it comes to producing stunning climbing rose bushes.
Organic Gardening
I learned many years ago that organic gardening requires a bit more labor; however, it has been a worthwhile investment.
Take a minute to better understand my philosophy of joyful gardening – and how to grow better soil for your garden.
It is more important for me to create a robust ecosystem for the local wildlife that is free of hazardous chemical fertilizers that can and do destroy the fauna. I'm not going to kid you, growing roses did prove to be a little tricky. Black spot, a common disease affecting most old roses, is a constant problem in my garden.
But growing roses, in all fairness, needn't be complicated; roses are pretty forgiving plants, and rose growers, like David Austin, now offer disease-resistant varieties. I suggest you also check with your local nursery for advice.
Why do you want to grow a climbing rose bush?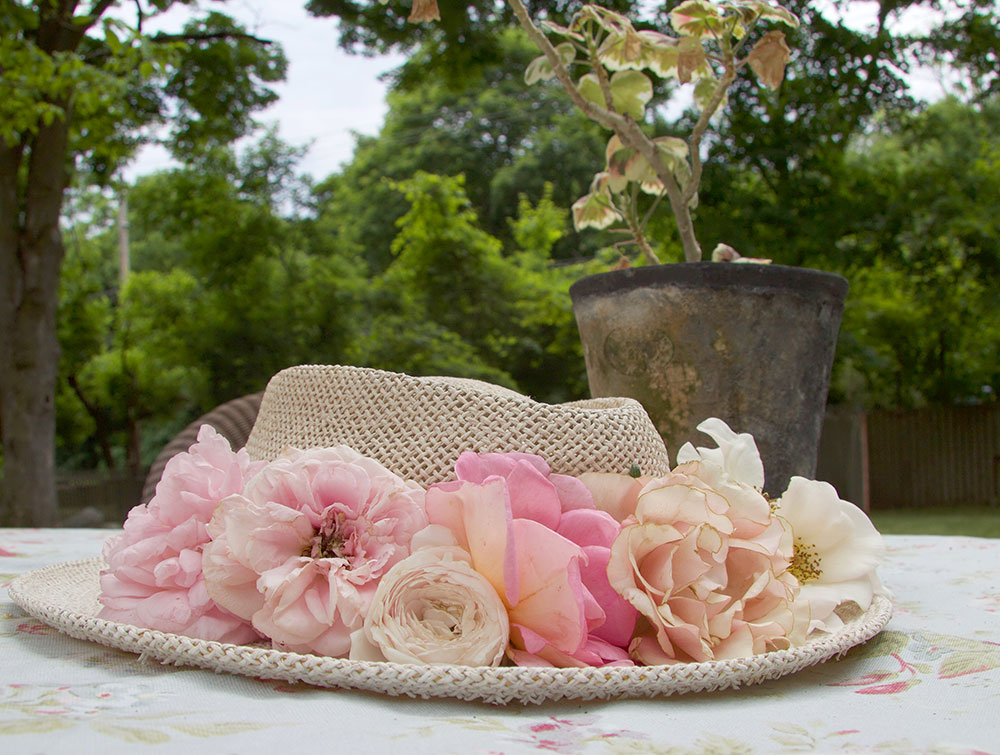 With so many rose varieties available, it's essential to know why you want a rose bush in your garden. You may be interested in covering up an unsightly spot in your garden or perhaps you want to bring cut flowers in your home. Maybe it's the intoxicating scent of the rose you are after. Whatever the reason, there is a rose for every location.
How to Grow a Climbing Rose Bush
I want to share what I've learned about growing climbing rose bushes:
Climbers can fill in a garden rather quickly.
Climbing roses can multiply if layered.
Many climbing rose stems are long, therefore make fantastic flowers for arrangements.
Certain rose varieties are repeat bloomers.
The beauty of a rose bush is endless.
11 Tips to care for a climbing rose bush
Roses are sun-loving plants; they need a full six to eight hours of sun per day. They also need good air circulation.
Climbing roses consist of long canes. These canes then have long laterals growing from them, and it is on these laterals that the flowers grow on. Studying your plants to better understand how they develop will prove beneficial as you deadhead and trim your climbing rose bush.
Every year a healthy plant should get new "canes," these will need to be trained.
Please pay close attention NOT to cut the main canes as their purpose is to grow long. Otherwise, your climbing rose will be rather short and a bit unsightly, learn from my mistakes. Having said that you if you do cut the central cane, your rose can be trained as an upright.
Train all canes on supports by tieing them in to form a gentle arch in early spring. NOTE: all the "lateral" branches grow upward from the central cane. These lateral branches are the stems from which the beautiful flowers grow.
To ensure the rose bush looks gorgeous in the garden until every single rose withers, deadhead each rose as it fades.
Roses to be used for arranging, however, require a long stem, which means you'll need to cut most of the lateral off, and left with no garden flowers.
When ALL, the flowers have bloomed on each lateral. Trim each lateral stem towards the cane leaving approximately two to three inches of the lateral attached to the cane. By trimming back, the lateral, it encourages new lateral growth from the cane.
For cut flowers, cut at the same point as indicated in step number 6.
Fertilize your roses consistently to promote a healthy plant.

I use

Maxicrop Soluble Seaweed Powder

and

David Austin Rose Food

.

Inspect your roses daily and remove any leaves with diseased blackspot, powdery mildew, dead leaves, and or damaged canes. If you check your roses regularly and remove infected areas immediately, you'll have a good chance of keeping problems under control.
Keep your pruners clean and wash with mild soap, rinse, and towel-dry after every use. Also, sharpen them regularly to ensure a clean cut. These simple hygiene practices are simple and effective at keeping any disease from spreading.
Watering overhead encourages disease, so water at the ground level. This method is more efficient as less water evaporates. Also, avoid watering late in the day because there isn't enough time for the leaves to dry out.
Thanks for spending time learning with me today! You may also enjoy reading my post – 10 garden roses for cutting and tips on how to grow them. I do hope my gardening tips help you to grow a beautiful space that brings you joy.
If you haven't already, please sign up for my monthly email newsletter where I share a behind the scenes look at how I'm working things out in life and in my garden. You can also follow me on Instagram, Pinterest, and Twitter. I also hope you'll join me on my Mighty Networks group Flowers. Art. Life.