Growing chrysanthemums this year has taught me a valuable lesson as an entrepreneur. That lesson? Striving for a healthy business/life balance is the ideal but it doesn't always happen when you own your own business. We have to grow with the flow.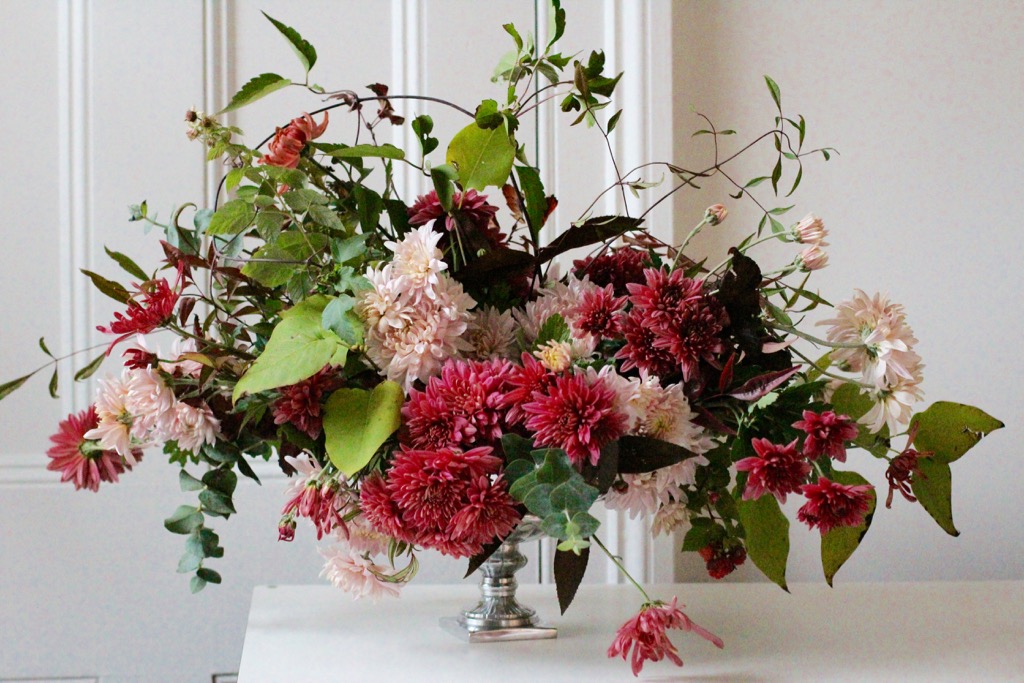 Learning to grow with the flow
I love chrysanthemums and their beautifully intricate petal formation. They are invaluable in my floristry business during the months of autumn. I find, however, that chrysanthemums grown commercially seem to lack any character. This year I wanted to experiment a bit and cultivate the taller cutting varieties. Have you tried growing them yourself?
Fearless, I took the plunge and ordered plugs. (plugs are small little starter plants grown primarily for nurserymen or farmers.) As always it came with its fair share of challenges.
For those of you who are not familiar with me and my story, this is the first year I've decided to grow flowers suitable for the floristry work I do, from my cottage garden. I'm committed to only using 100% locally grown flowers in all my work, but now I wanted to cultivate my own flowers. To be honest, there was a bit of fear on my part – It was quite an investment for my business yet I was determined.
My challenge as a first time slow flower grower and florist farmer was to grow beautiful, unique flowers, which require minimum care yet looked beautiful in arrangements and had an exceptional quality not typically found in market flowers.
As many of you who are small business owners know, our intentions are generally in the right place as we wear the many hats that come with the territory of running a small business. It's easy to overextend ourselves beyond our control if we are not careful. My commitment to try growing a new crop, and not considering the labor involved during the busiest time of my business was not considered carefully.
The chrysanthemum plants in my garden were growing beautifully, but I neglected to support them in time with proper stakes, and they became somewhat bent and crooked. At the time I compared them to the kind from the market and didn't realize that their magic was precisely their unique quality found in their stems. In all honesty, I thought my investment had gone down the drain.
Their neglect was turned into a positive because they had developed character in my garden. It is precisely those unique things we surround ourselves with that creates an interesting life. It is our unique approach to life that helps us deal with the boredom that so plagues society. So I ask you the next time you see something out of the ordinary embrace the qualities it posses because the way things are going in our homogenized society uniqueness might be a thing of the past. I ask, have you ever seen a chrysanthemum with an arched stem? No? Precisely! And this accident is just what allowed me to be more creative as I in my designs.
I love Chrysanthemums. They are beautiful with their intricate petal formation and their invaluable use in floristry. I find, however, that those grown commercially seem to lack any character. I wanted to experiment a bit this year and grow the tall cutting varieties. Have any of you tried them? I took the plunge and ordered plugs, small little starter plants grown especially for nurserymen or farmers. I know there are always challenges in anything I do, and this year my garden was no different.
I hope my story encourages you to continue growing beauty everywhere you go. In your art, business, or whatever it is that brings out your passionate creativity.
If you think something isn't the way you imagined it should be, look back at it with open eyes. I believe things always turn out provided you use your creative mind. Remember that how we deal with our ups and downs can be directly linked to the self-care systems we do or don't have in place. I encourage you to make time for self-care and daily creativity. These two things will help you handle whatever life, business, or your garden throws your way. Lessons learned along the way builds character and often grows beautiful flowers.
I'd be delighted to hear what lessons gardening has taught you as an entrepreneur! If you haven't already, please sign up for my monthly email newsletter where I share a behind the scenes look at how I'm working things out in life and in my garden. You can also follow me on Instagram, Pinterest, and Twitter.
~ Love each flower ~
My heart cries for you, my brother my sister
you and I begin life no different than each other
our hearts so pure and loving
life fills our hearts in seconds
that second is not ours anymore
for our life's journey has begun
with a blink of an eye, we are never more
our heart is still
remember my love:
love