Cultivating a sustainable garden takes time, patience, and the shared knowledge from others working toward the same goal. Gardeners are enthusiasts. Like most impassioned people, we gardeners continuously look for tips, tricks, and hacks to ease the endless tasks so frequently associated with keeping our gardens looking their best.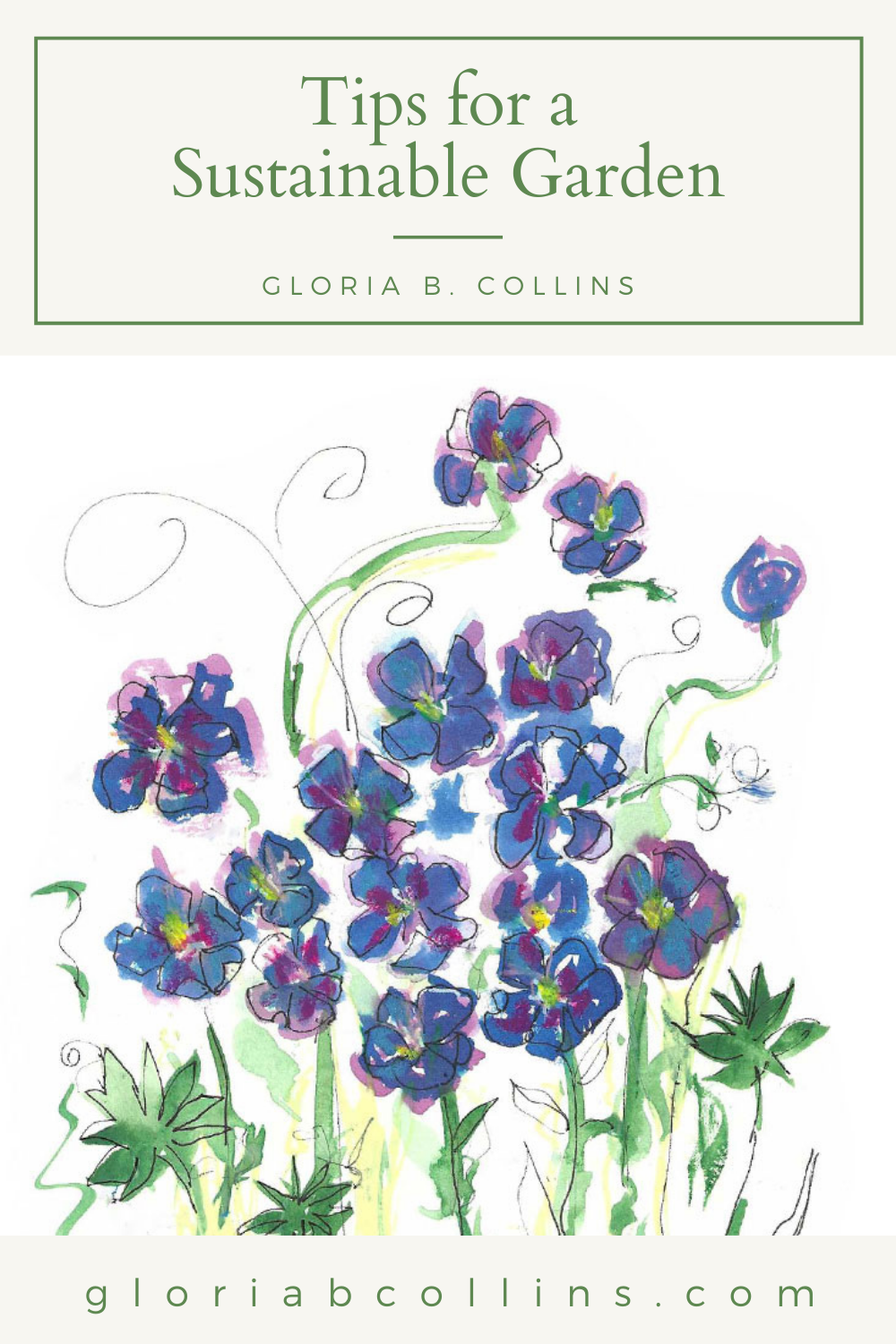 If you've ever created or tended a garden you know that each year, the joy of gardening blossoms into the unexpected. In my experience, as the season begins to wind down, gardeners know what worked and what didn't and we make notes for next year.
Today, I want to share with you my favorite items that got me through this past year and helped me create a more sustainable garden.
Tips from my sustainable garden:
If we could get into the habit of planting a garden with an emphasis on wildlife, our gardens would become more sustainable. Ideally, preparing us for climate change. Most plants in my cottage style sustainable garden require less water. I have planted grasses, herbs, and native plants, all to prevent water wastage.
Water: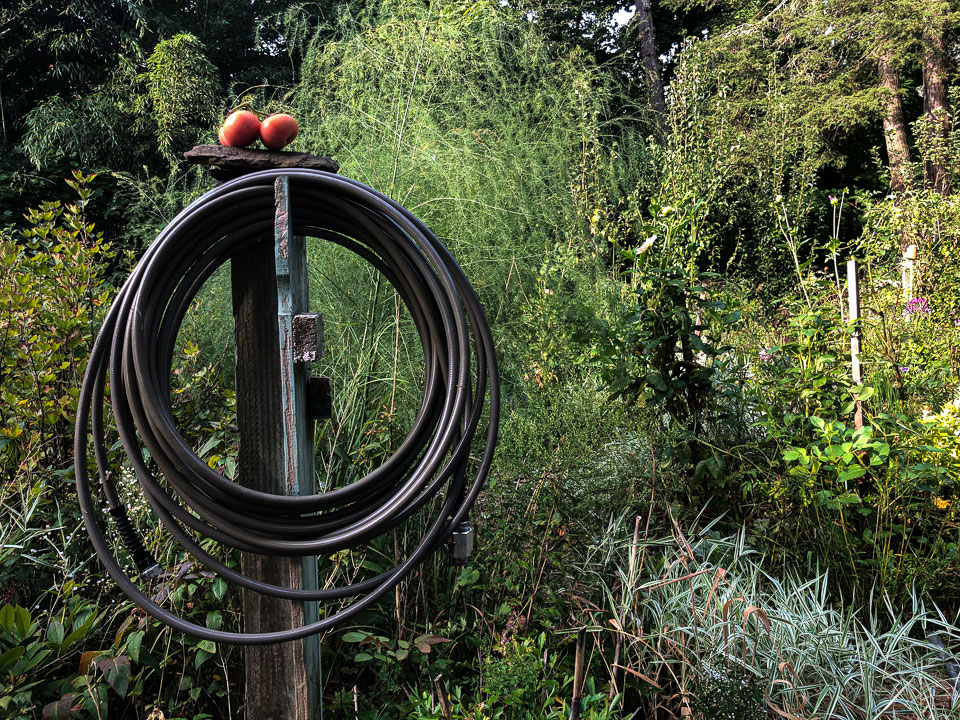 Water is vital to have a vibrant and healthy garden and, let's be honest, watering is a daunting task for most gardeners. These two items made watering my garden this season easier.
Pulling a heavy hose, which often kinks and tangles, can be quite frustrating, especially in the heat. Luckily, this flexible hose by Terrain is perfect for watering any tightly configured garden. Its unique lightweight design uses featherweight rubber, making it ideal for easy maneuverability without the dreaded kink.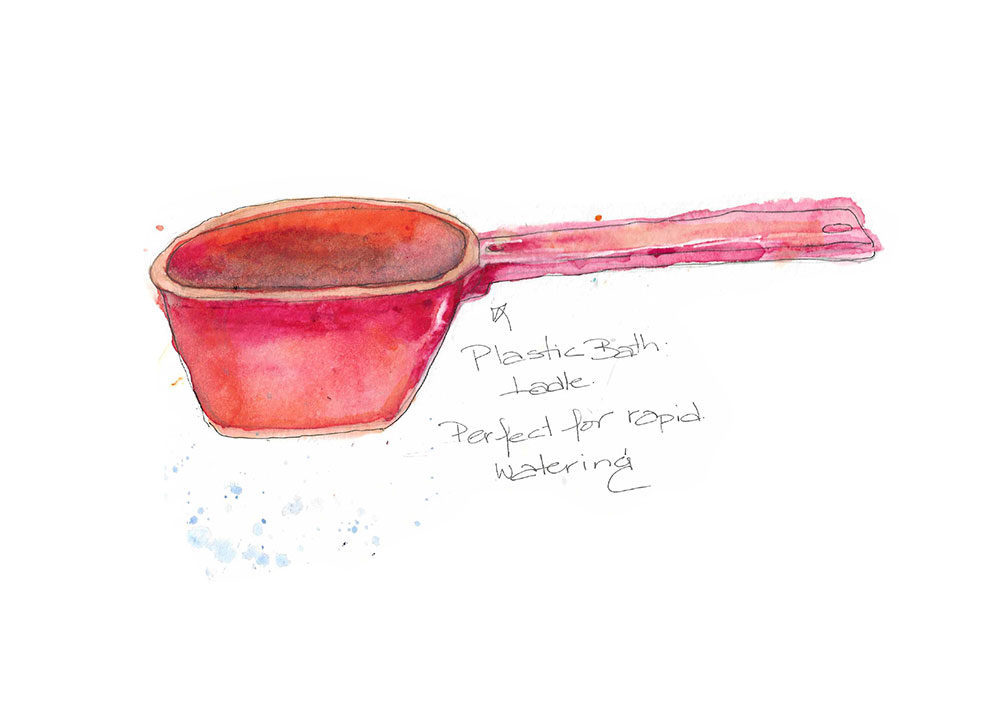 I like to walk in my garden during the evening and often see a plant that needs a quick drink. The thought of pulling out the hose for spot watering, however lightweight, is irritating. So I began using a Japanese plastic bath water ladle to give a quick drink to only those plants that need it. It is effortless to hydrate any seedling using this ladle and it sits ready to assist in a vintage galvanized bucket filled with rainwater.
Here is a walk through my cottage style sustainable garden back in April.
Plants that keep on giving:
Daisy Mae Japanese Aster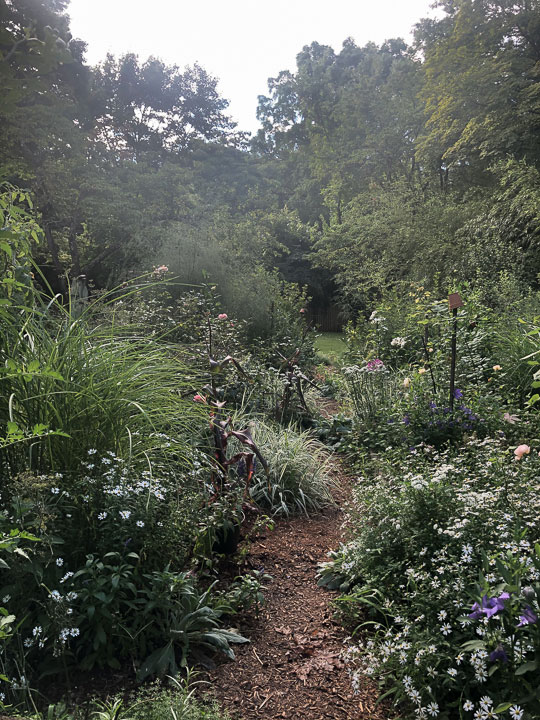 These small and tidy white daisy-like flowers have an exceptionally long flowering time, which is why they are indispensable in the garden. Cut them back during late spring to encourage new growth for a repeat flower cycle through to late summer. The flowers are sure to attract a multitude of pollinators. Plant in well-drained compost-rich soil for optimum vigor. Heat, sun, and humidity tolerant and great for bouquets!
Geranium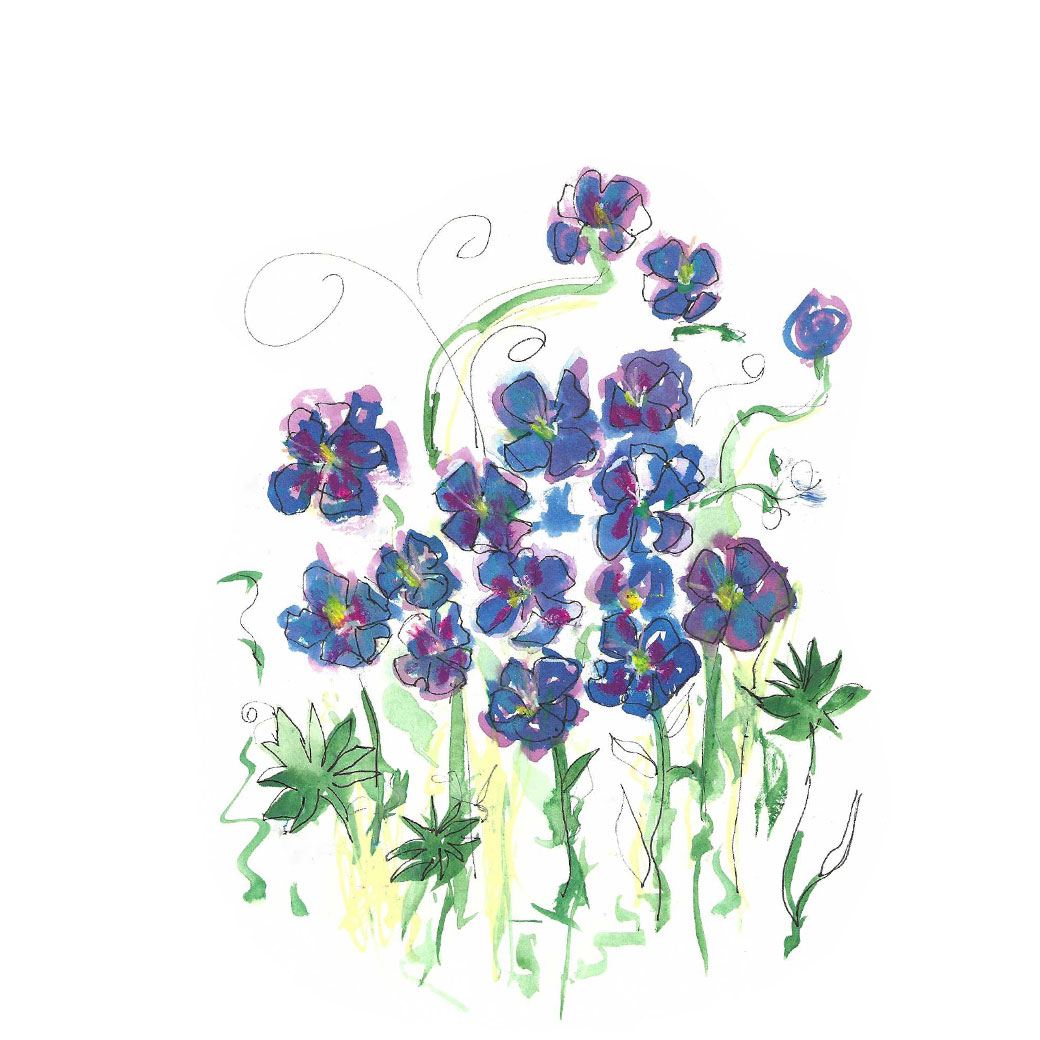 The perennial geraniums are quite prolific while providing whimsy to a sustainable cottage style garden and a certain je ne sais quoi to any bouquet. They are hardy, and once again, if you chop them back after they've completed their first flowering cycle, chances are they will bloom again.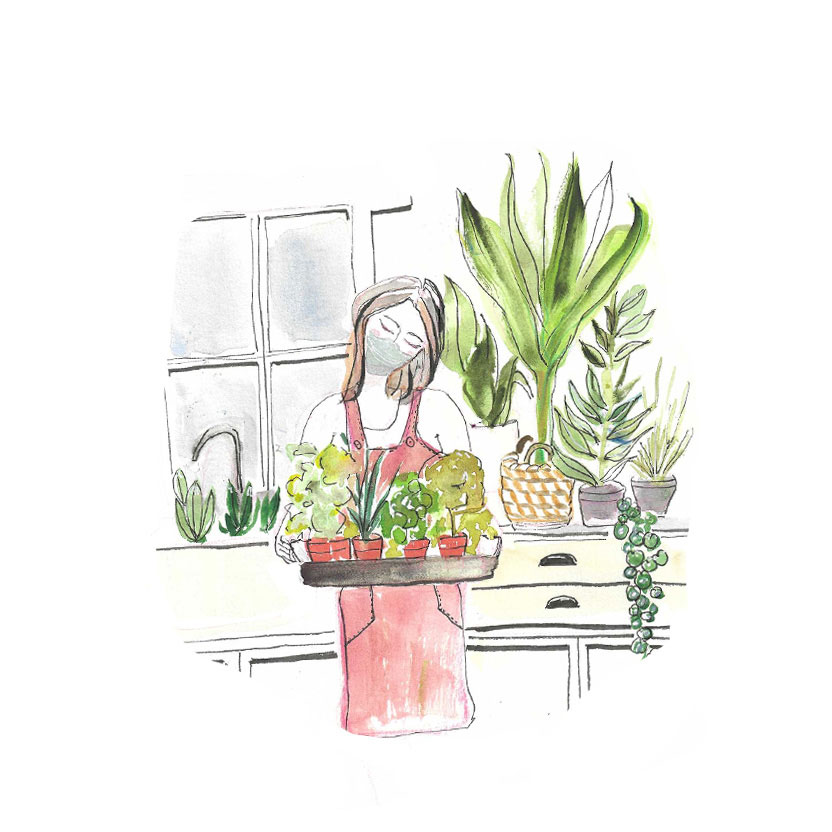 House Plants
House plants are just as important as your garden. They are also perfect for small space or urban living with little to no room for an outdoor garden.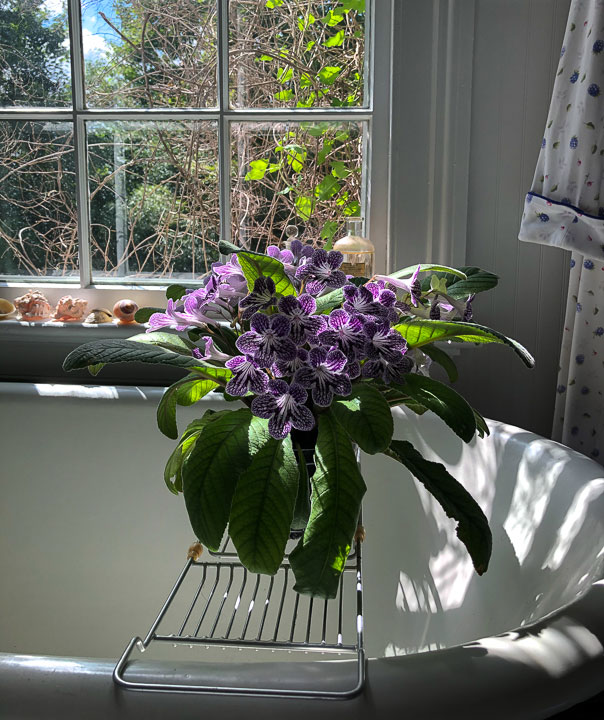 Flowering house plants are also uplifting when one enters a room and easy to care for once you understand their requirements. This Cape Primrose or "Streptocarpus" is a relative of the African violet. Keep it well fed with any good blooming fertilizer near a northwest-facing window. It grows best in a light, moist soil (one for African violets) to ensure constant blooms.
Compost / Humus
By adding compost, you are creating rich humus in the garden beds. Humus adds nutrients to plants and helps retain moisture in the soil. Any compost you add to your soil is a natural alternative to chemical fertilizers.
I've been adding compost to my garden every year and not only does it feed my plants, but it also helps me water less frequently and makes weeding easier.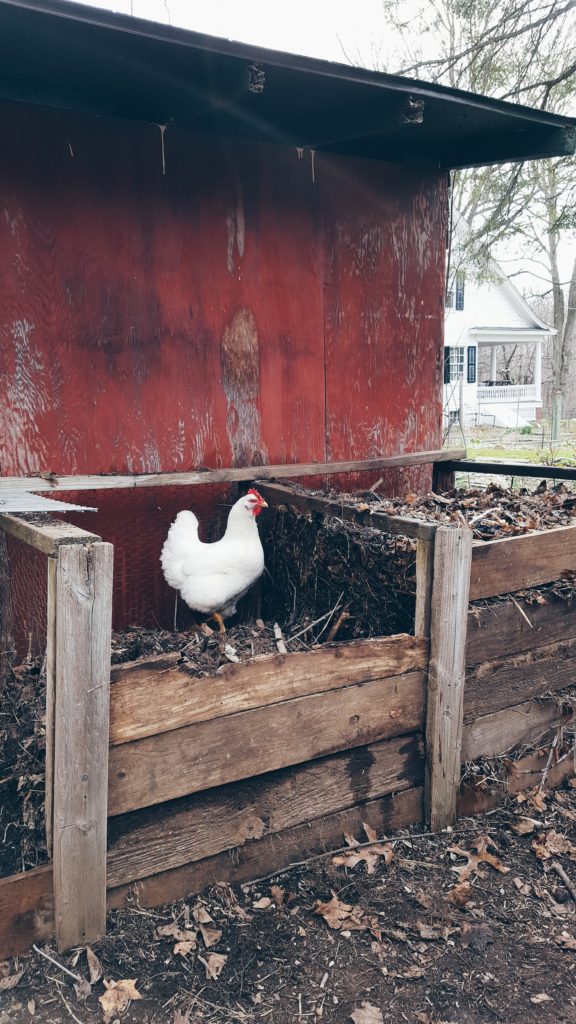 If you have the room and time, I highly recommend making your own humus. I make my own by adding kitchen and yard waste into these bins. Plus Henny loves to help too, by adding her poo.
If you're wondering how to grow better soil for a more sustainable garden you'll love this video where I share what I've learned over the years.
What are some tips you would share for a more sustainable garden? Leave a comment below and share what has helped you this year.
If you haven't already, be sure to sign up for my monthly email newsletter where I share a behind the scenes look at how I'm working things out in life and in my garden. You can also follow me on Instagram, Pinterest, and Twitter.