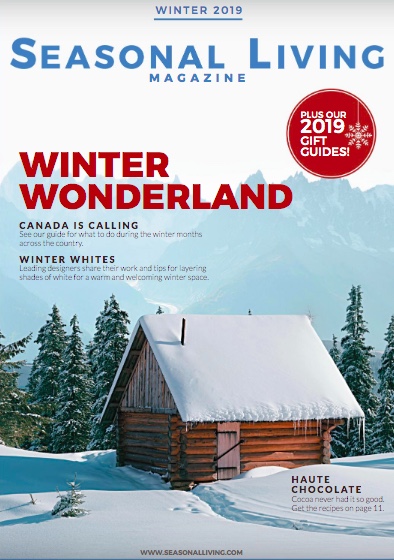 It is with great joy that I share the news that I am featured as a floral designer/illustrator in the Winter 2019 edition of the online Seasonal Living Magazine for designers!
It truly is an honor to have my Joy Tracker featured. I feel the significance of this collaboration is quite meaningful. I also think it's indispensable for collective creatives to help facilitate the awareness of designing homes with soul.
Are you new to my JOY tracker? I have written a blog post that will not only help you answer the question of 'How are you actively creating more joy in your life?' but offer tips on how to create more joyful moments and track them daily.
This tracker makes me feel happy as I track my moments of joy, hence the bouquet of flowers. Each time I sense a feeling of joy come over me, I fill in a petal. The goal is to fill in as many petals as possible throughout the day and, at the end of the week/month, I have a visual representation of my joy. I am gifting myself the bouquet of flowers as a show of appreciation for the kindness I exhibit towards myself.
If you are a designer I hope you'll sign up for Seasonal Living Magazine today. Be sure when you follow them on Instagram to let them know Gloria sent you!
About Seasonal Living Magazine:
It's a consumer-focused international luxury lifestyle digital publication that comes out quarterly. Its publication is in alignment with the seasons: Winter, Spring, Summer, and Fall covering all things seasonal.
travel. food. wellness. entertaining. design.
Seasonal Living Magazine's mission is to inspire people around the world to live a life in harmony with the seasons. It's published by Gary Pettitt, the CEO of Seasonal Living. Gary is a 5x Arts Award-winning manufacturer of indoor/outdoor furniture, lighting, and decorative accessories who calls Austin, Texas home.