In this blog post, I want to share with you 5 sketching tips to improve your skills and share some easy first steps to get started.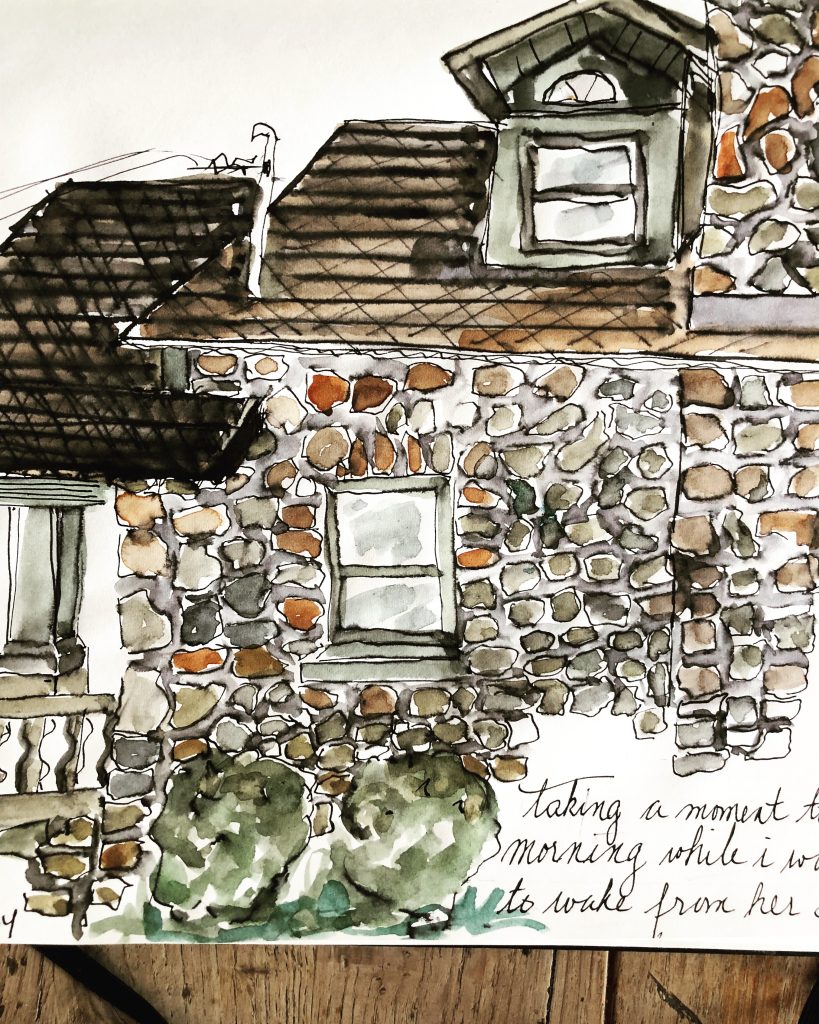 If you are like me and suffer from imposter syndrome trust me, you'll want to read on. The story I told myself for the longest time was not to bother attempting to sketch because I hadn't gone to art school and so I hadn't a clue about drawing. What a ridiculous thought! Ha, I say now!
For those of you wishing to explore your creativity and give drawing a go, here is a glimpse (and my sketching tips) into how I got started. Did you ever feel like the world would be cruel and oh, so critical if you shared your drawing? Best to leave things alone and not attempt drawing because it's too complicated? Something tugs at you to take a chance and discover something new and exciting?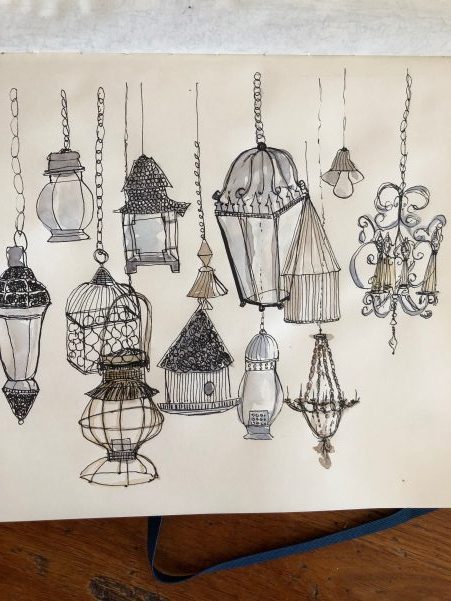 Ignoring perfectionism, that's what I've done. Perfectionism kept me from taking a chance on me. I've slowly been changing those creeping thoughts one step and sketch at a time.
5 easy sketching tips to improve your skills:
1. Attitude is everything
The best way around self-doubt when you first begin sketching is maintaining the right attitude. Positive attitude falls under practicing self-care. It's not allowing the ego to dictate the results before the action manifests itself in you.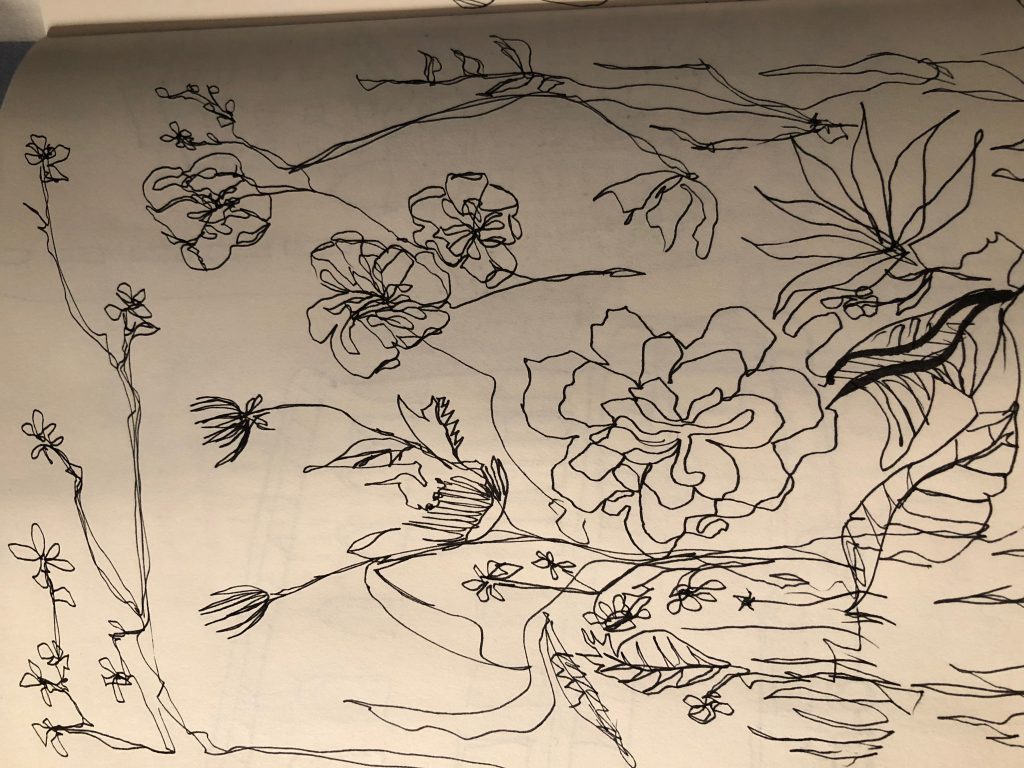 Sure I wasn't an artist and feared the expensive blank piece of paper. What if I made a mistake? What if the drawing ruined the page or the journal? The closest I'd ever gotten to creating art was as a child in grade school. What a joke, "I can't do this" I thought to myself.
Stop letting your ego run your life.
To begin I let go of unrealistic labels such as "artist." Now what I do is "sketch." Framing things differently helps me not put such pressure on being amazing at drawing. Sketching, which means "a hasty or undetailed drawing or painting" is a perfect way to learn how to draw. Case in point: check out this TEDxCSU video by Josh Kaufman.
2. Tools you'll need to Sketch
If you want to, well then you can! It's that easy. To begin sketching all you need is:
Desire: To work through a problem.
Patience: To train your eye to study what you see.
Time: 10 minutes a day to practice.
Trust me, at first, I felt so uncomfortable with the distorted and unrealistic drawings that even sitting for 10 minutes was unbearable. My sketches were cringe-worthy. However, I trained myself to sit through the discomfort long enough first thing each morning and gradually I began accepting my undeveloped drawings as good enough.
My goal: if they are identifiable, they are good.
3. YouTube it
We live in a world filled with recourses at our fingertips, which makes learning available to anyone at any time. Thankfully, my brain is so enthusiastic about how things work that I can't get enough of peoples talent.
I first subscribed to sketchbook.com because it offered short cute snippets filled with techniques and advice to keep me motivated. From there I linked to others artist such as Teo Yi Chie, Shoo Rayner, and my favorite right now Following the White Rabbit. They all offer free tutorials to help develop and improve my sketching. So go out and explore the vast number of tutorials which are free online.
4. Read
When my boys were small, I came across a book by Danny Gregory titled "An Illustrated life." This book is my initial introduction to another life. A fantasy world colored in the ethereal washes of watercolor. The glossy pages of people's daily sketches of their ordinary lives captivated me. I had never seen someone tell their story through journaling. I shelved the book! Years passed, and I found Danny Gregory on Youtube. I had no idea that Danny is the co-founder of sketchbook school, and it's a youtube channel which I subscribe to and follow without fail.
5. Make plenty of mistakes
Here is the fun part. Approach your first sketching project knowing that you will make plenty of mistakes; then there is nothing to lose. Slow down and wait for the magic to happen. After consistently sketching every day you will see progress. No one is going to hold you accountable for what goes into your drawing journal. The work is for your eyes only. So go out there and explore the world by filling up an empty drawing journal one page at a time. Before you know, you will be sketching your life. Take a chance on making your art.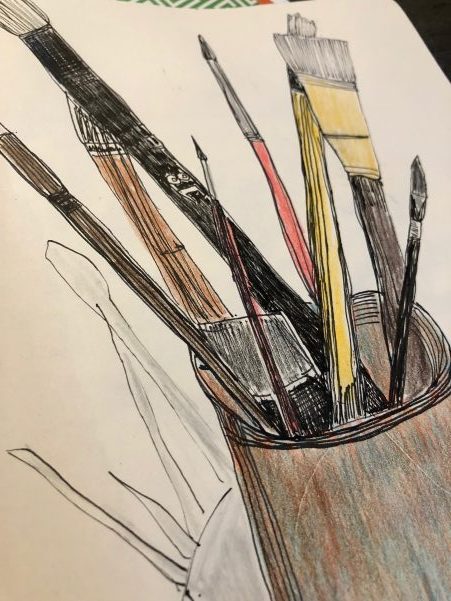 Now for the Why!
By sketching each day, it allows me to stay in the present moment of my life enough to capture it. I slow down which helps my brain to focus, for that moment, on exploring without hesitation the object or scene in front of me. There is no other method I've found that does this for me. It's the flow that keeps me in sync with my inner self to stop and become.
So, here we are at the end of another blog post, I hope that you will pick up a pen and believe that if you sketch a little each day, you will get better and more importantly you will feel happy with yourself. Go out and make art!

— — —
If you haven't already, please sign up for my monthly email newsletter where I share a behind the scenes look at how I'm working things out in life and in my garden. You can also follow me on Instagram, Pinterest, and Twitter.