Brides, do you want your wedding to be beautiful and meaningful, and fit your budget?
If so, then you're going to have to roll up your sleeves to do some of the work- simple as that. I have 7 DIY Ideas for a Meaningful Wedding to inspire you.
Don't panic it can be fun!
To the DIY brides designing their flowers, I Applaud you.
DIY wedding decoration are meaningful in many ways. There are times when I come across a bride that wants to create a meaningful wedding by doing the flowers herself. Though I would NEVER advise her to design and do the flowers for her bouquet or the venue because It's exhausting work and too much pressure for it all to look just right on the day.
I made this bouquet using flowers from my garden and farms.
7 DIY Ideas for a Meaningful Wedding
BOUTONNIERES
These little packages of love can be fun to make and are not too overly complicated.
Here is a link I recommend to get you started.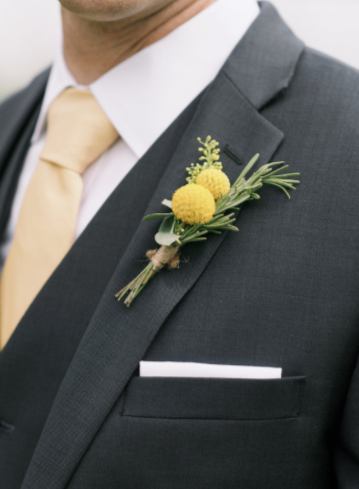 This Bride wanted to give her man something handmade by her.
So, together with her Maids, they enjoyed the process of making these lovely boutonnieres for all the Groomsmen.
Presenting something handmade to the one we love is true love.
DECORATE WITH PLANTS
Decorate walkways and tables with potted plants. I recommend seasonal and regional plants that you can take home and plant in your yard after the wedding. This will be a sustainable reminder of your special day.
SHOW YOUR GUESTS THE WAY
Make signs to direct your guests. You can use a chalkboard sign to not only guide guests but to quickly share the ambiance of your special day.
GET CREATIVE WITH PAPER!
Are you at a loss on how to decorate your tables? Make paper flowers! This is a fun rustic wedding idea that is both personal and less expensive.
Here is a link for these tissue paper flowers.
FLORAL NAME CARDS
Name cards don't have to be boring. Consider tying herbs together and adding names of your guests using ribbon and paper. A soothing scent like lavender will be a lovely way to greet your guests.
GET CREATIVE WITH YOUR SEATING CARDS
Make your seating card display something your guests will remember. Cut out hearts from the pretty paper you used to create the flowers for your table decoration and write your guests name and table number. When you display the seating cards on a clothesline with a clothespin, not only do you add a visual cue to your guests that this is where they find out where they sit, you can also leave them an opportunity, via pen an paper, to write the bride a groom a short note of congratulations to leave in their seating card's place.
SEND SOMETHING HOME WITH YOUR GUESTS
Fill pretty bottles with your favorite scented oils for guests to take home with them. Arranging the bottles on a table with some greenery and a sign offering them permission to accept the gift will give guests a clear sign that this gift is for them.
Now go off and tell your story your way.
SaveSave
SaveSave
SaveSave
SaveSave
SaveSave
SaveSave
SaveSave
SaveSave
SaveSave
SaveSave
SaveSave
SaveSave
SaveSave
SaveSave
SaveSave
SaveSave
SaveSave
SaveSave
SaveSave
SaveSave
SaveSave
SaveSave
SaveSave
SaveSave