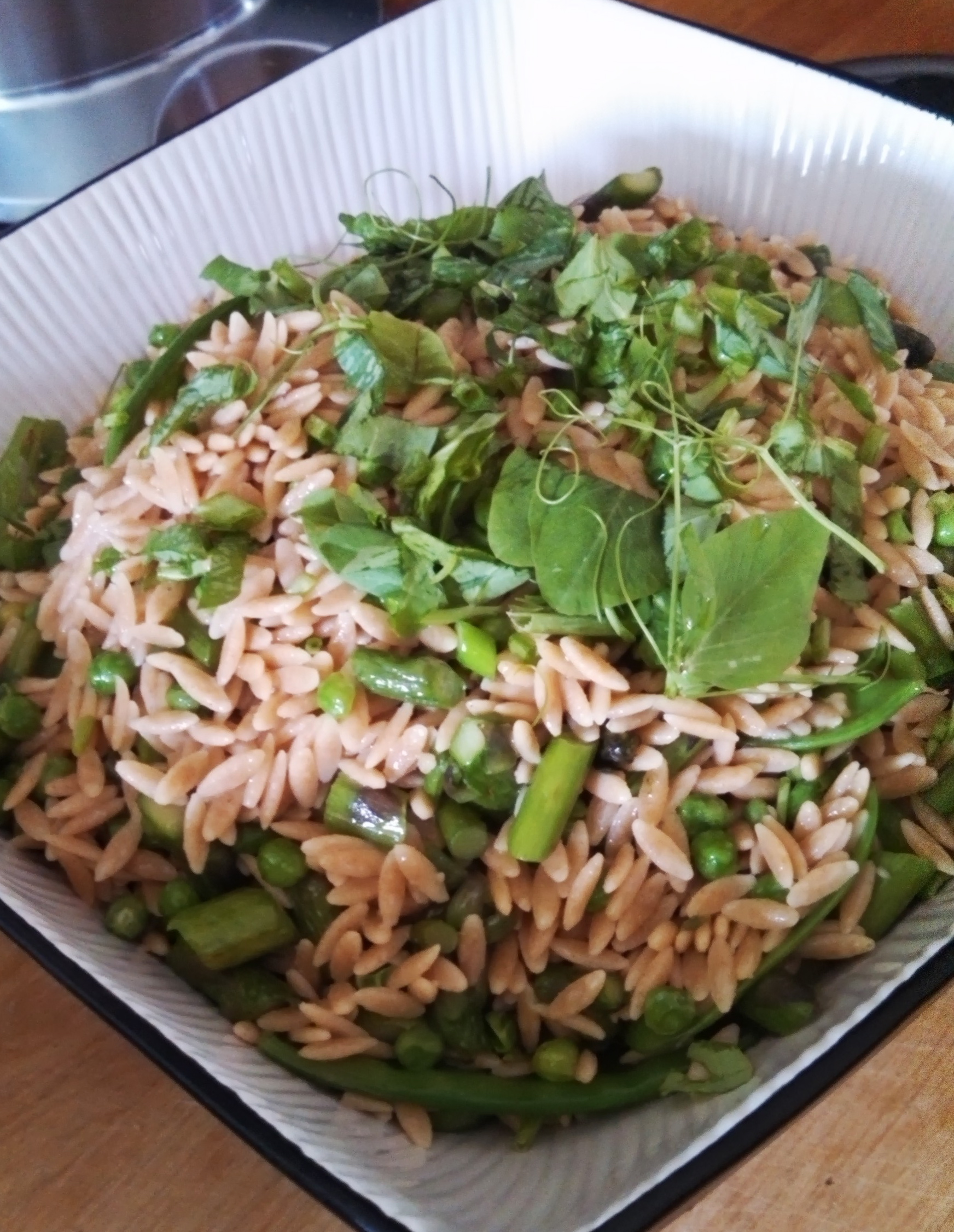 Here is a quick little gem of a recipe brought to you in the hopes that it to will become a staple when your in a pinch.
Three Green Orzo Salad
Please feel free to use any combination of greens that will with stand a bit of heat when stir frying quickly in good olive oil, such as seasonal asparagus, peas, pea shoots, string beans, or others. Use any combination of three, which will add texture to every bite.
In yesterday's combination, here's what I used.
Ingredients:
1 cup frozen peas
1 cup fresh asparagus
1 cup sugar snap peas
2 cups cooked whole wheat orzo
Olive oil for sauteing
Any combination of shredded herbs from the market or garden such as garlic shoots, pea leaves, mint leaves, arugula leaves, kale greens.
Salt
To make:
First cook the orzo  in salted water till tender. When done set aside in beautiful bowl.
Meanwhile clean, dice asparagus into bite size pieces, quickly saute in olive oil, until they start to turn a deeper green (not long, about 2 min.). Add salt and please don't over cook. Pour into the large bowl with all it's cooking juices.
Do the same with peas and string beans. The idea is to create visual texture on the plate by using a variety of green vegetables.
After adding the three green vegetables to the orzo bowl, I added a good handful of herbs more salt, more olive oil, stir well. Add a bit of flowers (I added chives) and you are done.
Simple to make, inexpensive and healthy.
~enjoy~