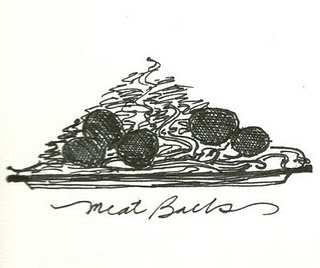 Yesterday morning as the boys left for school the bittersweet reality hit me like never before, I would not have them with me from day till night. Our days would not be ruled by our imagination, nor our lazy attitude to naturally slow us down.
My sons couldn't stop thanking me with hugs for a wonderful summer. "Thank you Mom, it was the best summer."
Their sincerity and deep feeling of gratitude left me speechless.  My husband and I had in fact created beautiful memories for our boys.
Wow.
Their sad eyes longing in memory for what seemed to be an endless summer, were hopeless.
So, I asked how could I make them feel somewhat better; the littlest one looked at me with his deep blue eyes and said, can we have meatballs tonight?
So, yesterday as I wrote and sketched a little picture for this entry in my blog, the scent of meatballs and sauce permeated the kitchen to welcome them back home, the safest place they will ever know.
Our slow home continues creating beautiful memories for us all.
~enjoy~